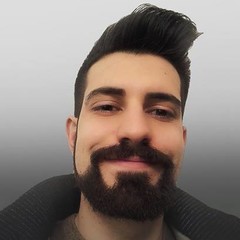 Patrizio Scherini
Ubisoft Texture artist
Milan(Hometown) / Barcellona(Currently), Italy
Summary
My Passion is to Create imaginary worlds filled with odd creatures and humans
where you can live and explore.
I'm a a very curious person, I always like to dig deep in every topic.
I always search for a new point of view trying hard to put myself in everybody
shoes in order to better analyze the world in all it's aspects.
This quality helps me greately especially when I tackle new situations.
It let me break down everything, even the hardest thing, into smaller chuncks
so I can easly reach a solution without ever feel anxious.
My passion for knowledge also makes my work more believable I can always recollect
from my mind facts based on history, science or foreign culture and add them where
I need to from the everyday object to a clothing piece or a tattoo.
Skills
Look Development
PBR Texturing
Texturing
surfacing
Lighting
Low-poly Modeling
3D Modeling
Environment Modeling
Digital Sculpting
Level Design
Concept Art
Environment Design
Software proficiency
Experience
Texture artist at Ubisoft Barcellona

Barcellona, Spain

Surface Artist at Rainbow CGI

Rome, Italy

Teacher Surfacing at Rainbow CGI

Rome, Italy

Teaching Maya procedural and substance painter etc..

Teacher at Imasterart

Milan, Turin, Genoa, Italy

Sector/Field: Education Art Accademy, Master training

Task: Teaching Autodesk Maya


Occupation 3d Artist at Equent Media Group

via Francesco Melzi d'Eril,6 Milan (Italy)

April 2016 - October 2016

Sector/Field: Augmented Reality, Virtual Reality, Real Estate, Forniture.

Task: 3d Modelling, Sculpting,texturing for Real time and Render

Clients: Generali, Schindler, AmGeneral Contractor, C3Buzz

Occupation 3d Artist at Freelance

Milan, Italy

Occupation 3D Artist and Illustrator at Appfactory

via Soperga,20 Milan (Italy), Italy

December 2012 - April 2014

Sector/Field: Augmented reality, Videogames

Tasks: 3d modelling, sculpting and texturing ,

icon Illustration and Props Concepts.

Videogame Worked on: Cupets saga (original and Ice), Xenò, Soccer Hero

Clients: Giochi Preziosi, Appfactory